We offer an invaluable range of training courses tailored to meet the needs of an effective youth group.
Training courses by Action4Youth
At Action4Youth our aim is to provide our members with access to quality, subsidised training ensuring that cost is not a barrier to up-skilling staff and volunteers. The sessions are designed to focus on the needs of staff and volunteers to best support you in your youth setting.
Due to cancellations of first aid sessions we are now running these when we meet the minimum numbers of 8 people. If you register on a waiting list for a session we will email you to advise on forthcoming dates.
Knowledgeable first aid trainer who didn't just follow a text book. So often the courses are dry, but this one was engaging and I wasn't clock watching. This was the best first aid course I've been on with Action4Youth.
Reopening your youth organisation (Online)
This free online workshop is designed to give you an overview of the guidance provided by the National Youth Association. This is the advice which youth organisations are being directed to follow.
There will be opportunity to discuss any specific points in the session, please provide your question(s) in advance to support us to direct you to the most suitable guidance.
Further dates to be added dependant on take up.
Dates
**New** Equality and Diversity
Are you aware of your unconscious biases and understand how these effect you in your role working with young people and your team around you? This workshop will give you opportunity to reflect on our unconscious decisions and how we can be more inclusive of those we see as our outgroup. It will support you to identify types of discrimination and value the benefits of a diverse workforce.
For costs please click on the dates below.
Dates
This is training is accredited. Recommended for all staff and volunteers to provide them with knowledge and skills to be able to apply basic first aid. 
For costs please click on the dates below.
Dates
Safeguarding Essentials (Online and Face To Face)
This is a 2 hour workshop has been designed to give new volunteers an introduction to safeguarding as well as updating those who require a refresher.
For costs please click on the dates below.
Dates
Emergency First Aid at Work (Face to Face)
This 6 hour accredited training delivered by HealhTec is delivered in an interactive way and covers first aid you need in your organisation. This programme meets the requirements of the Health and Safety Executive for first aiders working in low risk environments (eg offices, shops, residential care settings etc).
For costs click on the relevant event below.
Dates
Working Inclusively with Young People
Coming soon!
This session will identify how we ensure our working practices are inclusive for all young people, how this may prevent challenging behaviour as well as strategies to respond when it occurs.
First Aid (Accredited Training) (Face to Face)
Basic Life Saving
We are postponing First Aid face to face delivery due to Covid-19. If you are looking to attend the 3 hour Basic Saving Lives please register your interest with [email protected]
This training is recommended for staff and volunteers in youth organisations to provide them with knowledge and skills to be able to apply basic first aid.
Topics covered
Importance of self-protection and use of barriers
Chain of Survival
Primary Survey
Unconscious Casualties and Recovery Position
Adult CPR
Dealing with Choking
Basic Bleeding Control (optional)
Trainer: Healthtec
For costs click on the relevant event below.
Dates
This workshop explores different types of technology and we stay safe online when working with young people. Whether you are a frequent user of technology or discovering a new online world this workshop will provide you with guidance on keeping yourself safe and the young people you work with.
Objectives
Identify the common online platforms
Explore the benefits and risks posed to adults and young people with online platforms
Implement safer online interactions with young people in your organisation
Identify sources of advice and support to keep yourself and others you work with safe online
For costs please click on the dates below.
Dates
Virtual Coffee and Chat – Supporting youth organisations and young people through Covid-19
Grab a cuppa and come for a chat online! This informal session is open for anyone working in a youth organisation to come and share positive outcomes during lockdown as well as the chance to discuss with others the challenges your organisation is facing.
Dates
Re-opening and adapting provision
This 2 hour online workshop is suitable for operations based staff/volunteers looking ahead to opening to welcoming back young people.
Dates
This online workshop will provide support on business planning, including funding, operations and workforce.
Dates
We can deliver the training courses to you at your venue. To get started please call us on 0300 003 2334 to book your chosen course on your chosen date with your venue info. 
For tailored/bespoke training please contact [email protected] 
As a member of Action4Youth you get access to highly subsidised, low cost training courses and workshops in Safeguarding, First Aid, Introduction to Youth Work and Equality & Diversity. 
Courses and workshops are usually delivered at our Aylesbury offices but can also be brought to you and delivered specifically to your group on your premises.
If a course is delivered at your premises, fees to clubs and organisations in membership of Action4Youth are £120 (for up to 10 people) plus return travel expenses to your location (at 0.45p per mile). Price per additional person is £13pp.
Training is subsidised for A4Y members and costs reflect this and we use members venues across Buckinghamshire where possible to keep costs down.
If you have 6 or more people requiring the same training please contact Sarah Simmons for training delivered on your site at the cost of £120 for up to 10 people. Price per additional person is £13 pp up to a maximum of 15.
Training Calendar 2019
[tribe_events view="list" category="youth-group-training" tribe-bar="false"]
To become a member or renew your membership please complete this form. Once completed an invoice for your membership fee will be emailed to your organisations treasurer.
Please help us make this page more visible by sharing it through your own social networks.
Future dates to help your planning
Safeguarding Essentials – September (face to face), January (online)
Safeguarding Refresher – March (face to face)
*Basic Saving Lives – please register your interest and we will identify dates once we have enough people to run the session  
**Emergency First Aid at Work – Due to limited numbers requiring this training, we will now offer you dates on an external session already running
***Mental Health Awareness – this is a new session and requires a minimum of 8 people to run. Once we have enough people we will advise dates
Any queries relating to training please contact [email protected].  
Real stories and contributions from young people, parents, staff, members and partners – inspiring young people to become inspiring young people. | All Stories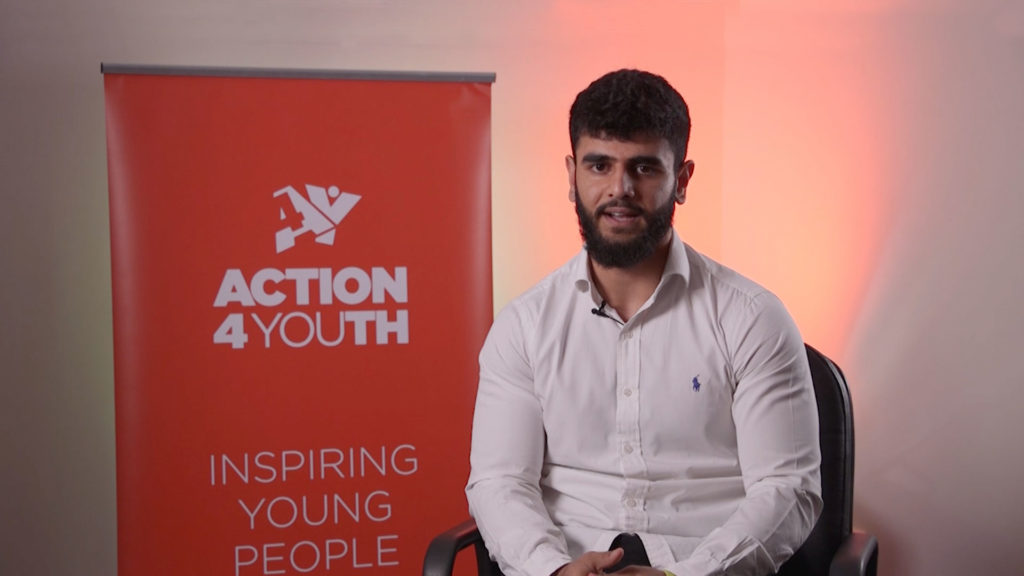 Action4Youth NCS has given young people like Shafiea the confidence to speak to everyone. This is Shafiea's story… "Before NCS I went to school, and I went to a boy's
| More