NCS Programme by Action4Youth
Action4Youth is proud to deliver the NCS UK programme in Buckinghamshire, Milton Keynes and Slough
National Citizen Service (NCS) - The experience which turns No You Can't into No We Can!
As a national youth programme, over 150 partner organisations come together to form the NCS network. 
Action4Youth has worked with NCS since 2010, delivering the life-changing experience for young people in Aylesbury. To date, we have worked with over 4000 young people, helping them to realise their potential and smash their future goals. We now run NCS programmes across the whole of Buckinghamshire, as well as Slough and Milton Keynes.
BUT ENOUGH ABOUT US, WHAT EXACTLY IS NCS?
Designed for 16-17 year olds, NCS is a youth programme that runs every summer during the school holidays.
The experience is all about emboldening young people, giving them an experience of discovering what life may involve, without all the responsibility. This year, young people signing up for NCS will experience a two-week programme. On the first week, they will live away from home and get a taste of independence as they mix with a new crowd of people and take on exciting challenges together. The experience helps young people to develop skills that will set them up for life after school. Participants then get a chance to use these new-found skills, by tackling a passion project of their choosing across their second week, linking with a local charity and making memories as well as a positive difference! NCS is dedicated to providing a platform for young people, where they can speak up and get their voice heard and tackle real world issues close to home. 
If you want to find out more, follow NCS on Instagram, Facebook and Twitter or head over to their website.
Action4Youth is proud to deliver the National Citizen Service for all teenagers in Buckinghamshire, Milton Keynes and Slough.

Action4Youth has the highest NPS (net promoter score) of 83 for summer 2019 in the whole country.

Please help us make this page more visible by sharing it through your own social networks.
Action4Youth delivers NCS
Over half a million young people have said YES to NCS
What is the NCS programme all about?
The National Citizen Service is the flagship Government initiative aimed at 16 to 17 year olds which offers the chance to take part in a bespoke programme that is challenging, fun and develops skills and confidence.
NCS seeks to promote:
Action4Youth offers various NCS programmes per year. This summer, young people have the option to choose between 8 waves (programme dates) for the two week programme. The two week programme includes a week away at our centre, the Caldecotte Xperience, and then a week based from home to complete the programme. The programme only runs Monday- Friday so you never have to give up your weekends!
In Autumn, in partnership with local schools and colleges, we offer a 2 week bespoke programme. 
Action4Youth also offers tailored SEND 2 week Autumn programmes in partnership with schools which cater for special educational needs and disability, including Pebble Brook School, Stony Dean School and Alfriston School. We are open to working with other schools in the area.
For more information please contact [email protected]
Course graduates are formally awarded their certificates at our annual graduation and awards ceremony  in front of family and friends. 
Need more information?
For more information email us at
[email protected]
or call one of our NCS team on 0300 003 2334.
NCS Summer Programme 2022
Delivering the National Citizen Service in Buckinghamshire, Milton Keynes and Slough
Real stories and contributions from young people, parents, staff, members and partners – inspiring young people to become inspiring young people. | All Stories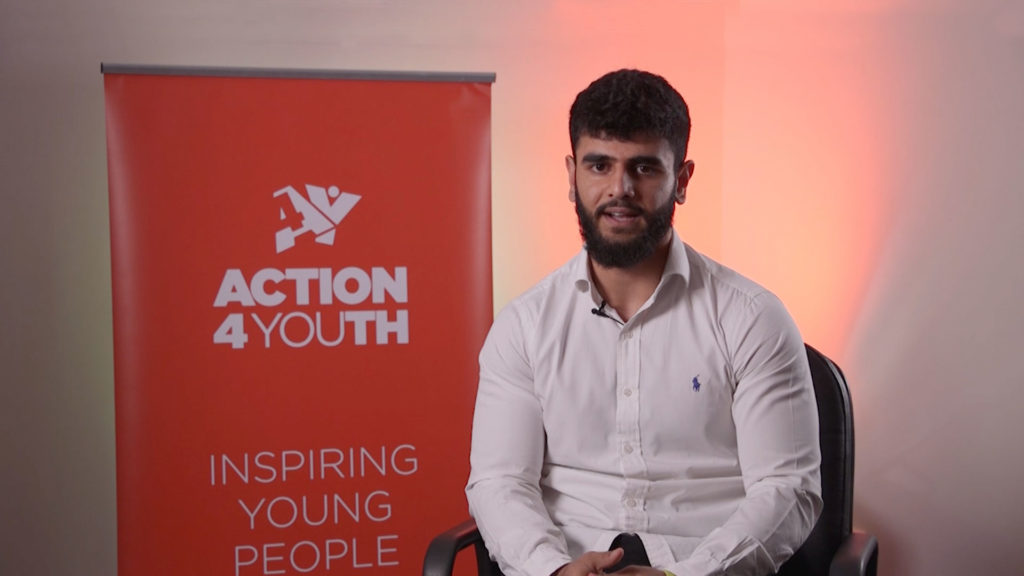 Action4Youth NCS has given young people like Shafiea the confidence to speak to everyone. This is Shafiea's story… "Before NCS I went to school, and I went to a boy's
| More