We offer an invaluable range of training courses tailored to meet the needs of an effective youth group.
Training courses accredited by Action4Youth
At Action4Youth our aim is to provide our members with access to quality, subsidised training ensuring that cost is not a barrier to up-skilling staff and volunteers.
The sessions are designed to focus on the needs of your organisation to best support you in your youth setting.
We have undertaken a review of our workshops and are gradually adding to the suite of opportunities.
Covid-19 update
We hope you are staying well. As of 01/07/2020 the voluntary sector and youth organisations remain physically closed. We know this is a difficult time, Action4Youth have strongly felt the impact of Covid-19. We are starting slowly to get staff back in the office from furlough.
Online training
Face to face training opportunities have been postponed. These will be resumed in line with guidance. In the meantime we are pleased to announce our new online training. Bookings and payment will need to be made online. For more information see below
To support you Action4Youth have a series of online training opportunities available. These remain subsidised for our valued members, in addition we are able to open these up to partners in the youth sector. Take a look on our training page and book your place today.
Coffee and chat
These informal virtual sessions will be held fortnightly. Take the opportunity to speak to others to find out what steps organisations are taking to support young people.
Emergency First Aid at Work
This 6 hour accredited training delivered by HealhTec is delivered in an interactive way and covers first aid you need in your organisation. This programme meets the requirements of the Health and Safety Executive for first aiders working in low risk environments (eg offices, shops, residential care settings etc).
For costs click on the relevant event below.
Dates
This is a 2 hour workshop has been designed to give new volunteers an introduction to safeguarding as well as updating those who require a refresher.
Objectives
Identify legislation which safeguards and protects children
Explain the types of abuse and recognise the signs and indicators
Identify the process for handling disclosures
Explain how to report concerns
For costs please click on the dates below.
Dates
This workshop explores different types of technology and we stay safe online when working with young people. Whether you are a frequent user of technology or discovering a new online world this workshop will provide you with guidance on keeping yourself safe and the young people you work with.
Objectives
Identify the common online platforms
Explore the benefits and risks posed to adults and young people with online platforms
Implement safer online interactions with young people in your organisation
Identify sources of advice and support to keep yourself and others you work with safe online
For costs please click on the dates below.
Dates
Virtual Coffee and Chat – Supporting youth organisations and young people through Covid-19
Grab a cuppa and come for a chat online! This informal session is open for anyone working in a youth organisation to come and share positive outcomes during lockdown as well as the chance to discuss with others the challenges your organisation is facing.
Dates
Re-opening and adapting provision
This 2 hour online workshop is suitable for operations based staff/volunteers looking ahead to opening to welcoming back young people.
Dates
This online workshop will provide support on business planning, including funding, operations and workforce.
Dates
We can deliver the training courses to you at your venue. To get started please call us on 0300 003 2334 to book your chosen course on your chosen date with your venue info. 
For tailored/bespoke training please contact [email protected]n4youth.org 
As a member of Action4Youth you get access to highly subsidised, low cost training courses and workshops in Safeguarding, First Aid, Introduction to Youth Work and Equality & Diversity. 
Courses and workshops are usually delivered at our Aylesbury offices but can also be brought to you and delivered specifically to your group on your premises.
If a course is delivered at your premises, fees to clubs and organisations in membership of Action4Youth are £120 (for up to 10 people) plus return travel expenses to your location (at 0.45p per mile). Price per additional person is £13pp.
Training is subsidised for A4Y members and costs reflect this and we use members venues across Buckinghamshire where possible to keep costs down.
If you have 6 or more people requiring the same training please contact Sarah Simmons for training delivered on your site at the cost of £120 for up to 10 people. Price per additional person is £13 pp up to a maximum of 15.
Training Calendar 2019
September 2019
This qualification will equip attendees to deal with a variety of first aid situations or
Find out more »
January 2020
February 2020
July 2020
August 2020
+ Export Events
Become an Action4Youth member to get direct access to advice, guidance, subsidised training and full membership benefits. | More
Please share this page to help us become even more visible to young people 
Real stories and contributions from young people, parents, staff, members and partners – inspiring young people to become inspiring young people. | All Stories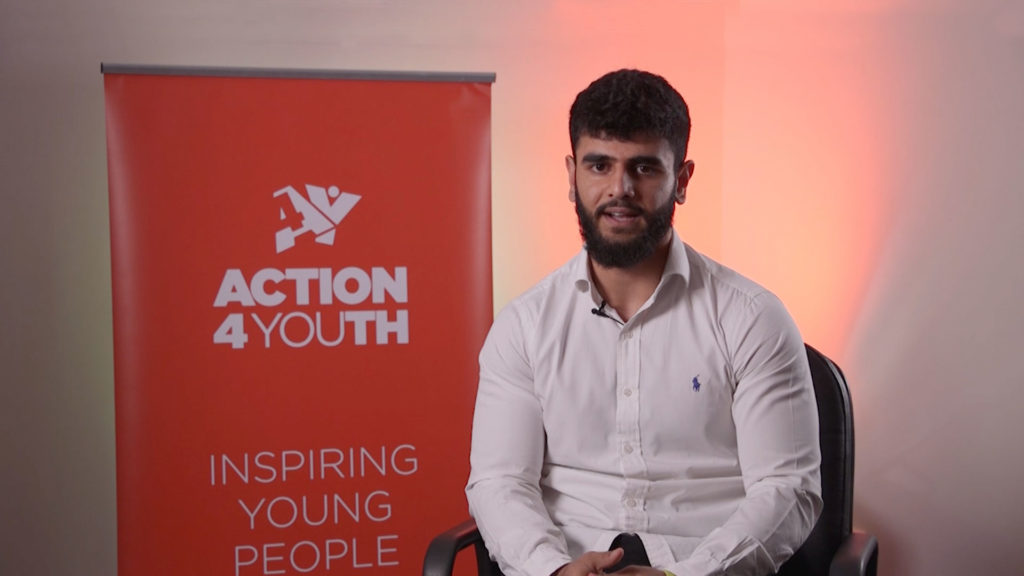 Action4Youth NCS has given young people like Shafiea the confidence to speak to everyone. This is Shafiea's story… "Before NCS I went to school, and I went to a boy's
| More